Michela Heth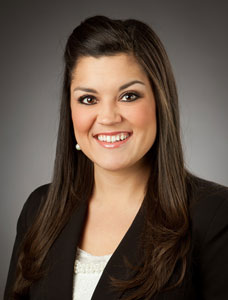 Director of Events & Engagement
Michela Heth is the Director of Events & Engagement for the Office of the Chancellor. In her role, Michela is responsible for event coordination and prospective student recruitment.
Michela organizes special events for the Office of the Chancellor and the Board of Regents. She also assists with the Chancellor's Ambassador student group, which is comprised of approximately 65 students.
In addition, Michela manages the Chancellor's Top Scholar program, a strategic recruitment initiative that actively recruits students who have been admitted to the university with a score above 1500 on their SAT. She also works very closely with the Chancellor to recruit many special populations of prospective students.

Prior to joining the office, Michela was an event planner for Top Tier Catering at Texas Tech University for three years.
Michela was born and raised in Roswell, New Mexico and is married to Ryan Heth. She graduated from Texas Tech University in 2010 with her Bachelor's in Restaurant, Hotel, and Institutional Management and again in 2012 with her Master's in Business Administration.
Contact Michela at (806) 742-0012 or michela.heth@ttu.edu.