John Esparza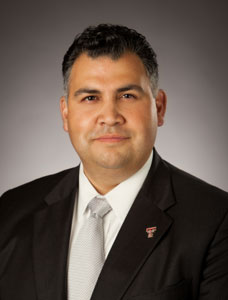 Mr. John D. Esparza of Austin was appointed by Gov. Rick Perry to the Board of Regents of the Texas Tech University System on Feb. 14, 2013. He currently is a member of the Audit and Academic, Clinical, and Student Affairs Committees. Mr. Esparza also chairs the the Board of Trustees of the Carr Scholarship Foundation. He previously served on the Facilities Committee. Mr. Esparza's term expires on January 31, 2019.
Mr. Esparza, a graduate of Texas Tech University in Lubbock and a fourth generation West Texas native, serves as president and CEO of Texas Motor Transportation Association (TMTA). TMTA, one of the largest trucking associations in the nation, was established in 1932 in Austin.
Prior to being selected as TMTA president, Mr. Esparza served as senior advisor to Gov. Perry, focusing on policy, legislative and political issues. During his tenure, he was tasked to a major Perry administration initiative; economic growth, prosperity and job creation in Texas. He assisted the governor in facilitating the state's first ever $295 million economic development endeavor called the Texas Enterprise Fund and the $200 million Texas Emerging Technology Fund.
In addition to the cabinet-level position attained during his tenure with the Perry administration, Mr. Esparza has also served as special assistant to the governor. Before the 2000 presidential election sparked a political shuffle in Texas, Mr. Esparza was a personal assistant and travel aide in the Texas Senate to then Lt. Governor Perry. He also served as an assistant to the communications director for State Senator Teel Bivins (R-Amarillo) before joining Perry's administration.
During the late 90's, Mr. Esparza worked extensively on Hispanic outreach under political advisor Karl Rove as then Governor George W. Bush's Political Coalition Director. During this time, Mr. Esparza was also a member of Governor Bush's advance team. Prior to that, Mr. Esparza completed a fellowship with the American Association of Retired Persons, reporting to the state communications director. Mr. Esparza earned a bachelor's degree in public relations with a minor in marketing.
In 2007, Mr. Esparza received the Texas League of United Latin American Citizens (LULAC) State Director's Recognition Award for his legislative leadership in state government. He serves on the March of Dimes Texas Public Affairs Committee (2007-present) and on the National Board of Directors for the College of Media & Communication (2008-present) at Texas Tech University. He was recently appointed by the Texas Department of Transportation to serve on the Texas Energy Task Force and the Texas Panama Canal Stakeholder Work Group. Both groups are charged with bringing recommendations to the 83rd Texas Legislature. He has served on numerous statewide transportation policy and advisory committees. In February 2013, Mr. Esparza was appointed to the Texas Transportation Commission's first Freight Advisory Committee, a panel of experts that serve as an ongoing forum for agency transportation decisions affecting freight mobility.
Mr. Esparza also served on the National Board of Directors for Hispanics for Opportunity Progress and Education (2000-2012). He is a member of the Central Texas Fellowship of Catholic Men (2000-present), the St. Austin Catholic School Advisory Board (2007- present) and is active with the Boy Scouts of America Capitol Area Council Pack 34.
He and his wife Leah, a native of Galesburg, Illinois, have three sons; Jacob Pecos, Joshua Brazos and Jack Sabine. The Esparza's are members of St. Catherine of Siena Catholic Church and St. Austin Catholic Church.