Mickey L. Long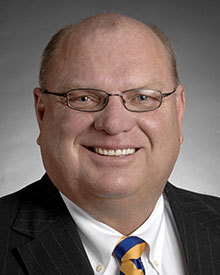 Chairman
Mr. Mickey Long of Midland was appointed by Gov. Rick Perry to the Board of Regents of the Texas Tech University System on February 6, 2009. He was reappointed by Gov. Greg Abbott on January 22, 2015. His term expires on January 31, 2021.
Mr. Long currently serves as chairman of the board, having been elected to the position in February 2013 after previously serving as the board's vice chairman for two years. He was re-elected as chairman of the board in April 2015.
Mr. Long has also been chairman of the Regents' Rules Review Committee and the Board of Trustees of the Carr Scholarship Foundation.
Mr. Long is president of Westex/WLP Well Service, L.P. in Midland. Mr. Long received his Bachelor of Science from Angelo State University in 1976.
He is a member of the Association of Energy Service Companies and the Texas Tech University Hall of Legacy. Before being named a member of the Board of Regents, Mr. Long was an active member of the Texas Tech Foundation, Angelo State University Alumni Foundation, and the National Board of Directors for the Red Raider Club. Mr. Long is an active member of Grace Lutheran Church in Midland, Texas.
Mr. Long is married to Rhonda Renee Long, a 1976 graduate of the College of Education at Angelo State University. They have two daughters, Amy and Andrea, who are both graduates of Texas Tech University. Amy is married to Brad King, and Andrea is married to Christopher Tirey. They have three granddaughters: Katherine Grace King, Caroline Grace Tirey and Margaret Elizabeth Tirey.