Home /
Christopher M. Huckabee
Christopher M. Huckabee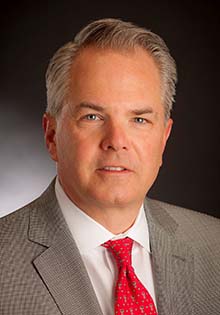 Mr. Christopher M. Huckabee of Fort Worth was appointed by Gov. Greg Abbott to the Board of Regents of the Texas Tech University System on Jan. 22, 2015. He is currently a member of the Finance and Administration Committee, and the Academic, Clinical and Student Affairs Committee. His term expires on Jan. 31, 2021.
He has previously served the board as a member of the Facilities and Investment Advisory Committees.
Huckabee is the CEO of Huckabee Architecture, Engineering and Program Management, a 185-person firm dedicated to educational design.
Gov. Rick Perry twice appointed Huckabee to the Texas Higher Education Coordinating Board where he chaired the Agency Operations Committee. Huckabee also serves on the Board of Trustees for Cook Children's Health Foundation and the Board of Trustees for Cook Children's Medical Center in Fort Worth. He is currently the chair of the Cook Children's Facilities Committee.
He also serves as the Chairman of the Board of Directors for the Community Foundation of North Texas and is active in the Fort Worth Chapter of the Young Presidents Organization (YPO).
In 2002, Huckabee established the Timothy Terry Memorial Endowed Scholarship for Architectural Students at Texas Tech University in memory of an employee and friend. In 2007, he established the Huckabee Student Lounge in the College of Architecture at Texas Tech University. Huckabee also is a past board member of the Texas Tech Foundation.
He received a bachelor's degree in architecture from Texas Tech University in 1991 and is a registered architect in Texas, Colorado, New Mexico, Arkansas and Georgia. Mr. Huckabee also holds National Council of Architectural Registration Boards Certification (NCARB).
Huckabee and his wife, Robin, a 1992 interior design graduate of Texas Tech University, have three children: Andrew who is studying at Trinity University, Mason Elizabeth who attends Texas Tech University and Harris Anne. He and Robin are members of the Texas Tech University System's Chancellor's Council.