Robert L. Duncan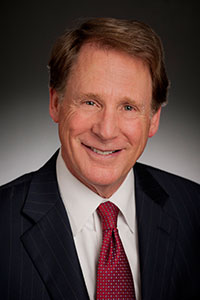 Chancellor of the Texas Tech University System
Robert L. Duncan became the fourth chancellor of the Texas Tech University System on July 7, 2014.
As chancellor, Duncan is the chief executive officer of the Texas Tech University System, which includes four component institutions—Texas Tech University, Texas Tech University Health Sciences Center, Angelo State University and Texas Tech University Health Sciences Center El Paso. He is focused on providing each university with the resources needed to achieve its mission. As part of his leadership, the chancellor also works in both Austin and Washington, D.C. to increase funding and support for all system institutions.
Before becoming chancellor, Duncan served in the Texas Legislature for more than two decades. He was elected to District 84 in the Texas House of Representatives in 1992. In 1996, he won a special election to the Texas Senate, where he served until resigning to become chancellor.
While representing District 28 as State Senator, Duncan crafted major legislation impacting Texans and served on three of the Senate's most powerful committees—Finance, State Affairs and Budget Conference. He served as president pro tempore of the Texas Senate during the 81st Legislative Session and served as a member of the Senate Committee on Higher Education, the Education Committee and the Natural Resources Committee. He was widely recognized as a leader in the Texas Legislature. Texas Monthly magazine named Duncan to its 'Ten Best List' more times than any other member of the legislature.
Duncan also was a law partner at Crenshaw, Dupree and Milam in Lubbock for more than 25 years. He advised clients in insurance law and commercial litigation, among many other areas of his legal practice, and remains of counsel for the law firm.
Duncan is a lifelong West Texan. He was raised in Vernon, Texas. He is the only son of five children born to Frank L. Duncan and Robena Formby Duncan. Duncan and his family have a rich heritage with Texas Tech University. His uncle, Marshall Formby, and cousin, Clint Formby, both served on the Texas Tech University System Board of Regents.
Duncan received his bachelor's degree in agricultural economics from Texas Tech University in 1976. While completing his undergraduate degree, he served as the student body president. Duncan received his doctorate of jurisprudence from the Texas Tech University School of Law in 1981.
Duncan has two children. His daughter, Lindsey Pike, is a public school teacher and counselor, and is married to Wes Pike. His son, Matthew Duncan, is a food distribution sales representative. Chancellor Duncan is married to Terri Duncan. Mrs. Duncan also has two children, Justin Patterson, an IT specialist, and Clayton Patterson, an auto-financing assistant. All the children are Texas Tech University graduates.